10% OFF

Your first weeks meals

Use code SAVE10
Our food speaks for itself
Shredded Beef Brisket

Using the leanest quality beef only, the meat is marinated for over 24hrs then slow cooked for over 6 hours until the meat falls apart giving the most juiciest and tender meat. The meal is served with steamed sweet potato and broccoli and served with a gravy sauce.

Chicken Chelo Kebab

Most amazing Persian meal made from minced breast chicken full of spices and flavours served with peas rice, fresh onion & tomato salad and homemade mint sauce.

Sicilian Telapia Fish

Pan-fried cod, new potatoes and greens. Finished with stewed tomatoes and basil makes this a real Italian classic.

Honey Glazed Turkey

Turkey breast marinated overnight then slow-roasted to give the perfect tenderness of the meat served with vegetable pasta, salad and honey and mustard dip.

Thai Red Lentils

GoFiit's take on a Thai-style Dahl, which is deep in flavour and full of nutrients.

Snickers Porridge

Creamy porridge oats with added protein, chocolate & almond butter topping
Why we are different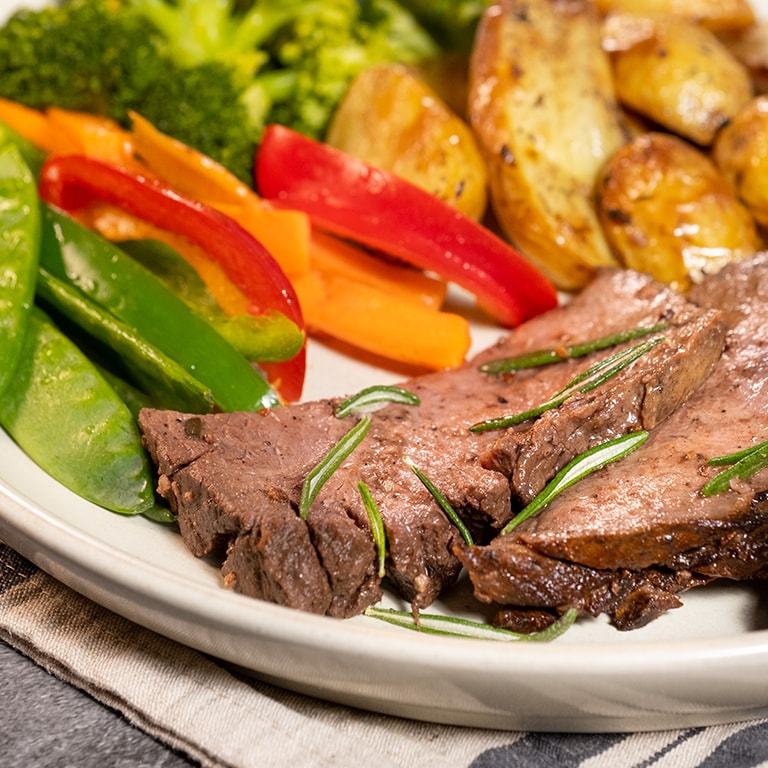 All our ranges follow the same protein and carb amount so every meal will have the same % of macros.
Fat loss 50% protein 30% carbs,
Lean Gain 40% protein 40% carbs,
Balanced 30% protein 50% carbs.
Largest menu in the UK.
Why choose GoFiit Nutrition?
Meals designed by nutritionists and cooked by our expert chefs
We only use fresh ingredients.
Save time with no prepping, cooking and cleaning
Nationwide delivery twice a week in our chilled packaging for complete freshness.
Reheat and ready to eat in 3 min.
Customise and change your meals anytime.
Who we are
We at GoFiit are a healthy meal prep delivery company that delivers delicious, restaurant-quality food to your door. No preservatives, no processed food, no nonsense. Food plays a massive part in achieving your health and fitness goals. Our meals are designed around your goals and your nutritional needs, helping you to progress along your journey. The best bit is that it's all based on research by nutritionists and dieticians. Our meals use the building blocks of a healthy human body: proteins, fats and carbs. Balanced in a way unique to you – fuelling your body towards achieving any health, fitness or lifestyle achievement.
How it works
Our expert chefs will cook and prepare your meals
We deliver to your home or workplace twice a week
Testimonials
I've been using GoFiit Nutrition for my meals for a few years now and I absolutely love them. Such great quality of food, and it tastes amazing. The best bit is you can pick and choose and it never gets boring. Highly recommend.

Laura Hazelton Owner of Outside The Box Marketing Agency

Love how delicious the meals are. I eat well and know I'm staying healthy and in control of my macros.

Patricia Cumper, MBE British playwright, producer, director, theatre administrator, critic and commentator

Been using these a while now, really good company to deal with, good value and the quality has always been bang on - would recommend this meal prep delivery.

Luke Trainer Bellator MMA Fighter

Amazing meals, great taste and value for money. I have tried many gym meals and these are by far the best tasting and are great size meals too! Highly recommended.

Ben Woolis 2x World Thai Boxing Champion

Legacy is built daily and good nutrition is the foundation. GoFiit Meals have great variety and taste, designed by expert nutritionists, they are perfect for my clients needs.

Shane Raymond Natural Bodybuilding British Champion, Owner of Body Ethics Gym

I love GoFiit meals because they are packed with high quality protein sources and super tasty too. I'd never have the time to put together meals of such variety or standard myself.

Lucy Walton Personal Trainer / Pro Natural Figure Competitor
GoFiit takes food safety very seriously, so your food is prepared, cooked and stored to the highest standards.
---
Become a Fitness Associate
Our meals are designed by sports nutritionists and prepared by expert chefs to help you and your clients achieve your goals. We are sure to be a great fit for you because we designed our meals specifically to complement what you do as a fitness professional.
Earn commission from every transaction with generous commission rates.
Your clients will be assured of great results from our goal focused menu of delicious food.
GoFiit will refer clients to you which means more business for you.
Get up to 50% discounts on meals and merchandise.
Help you and your clients achieve your goals
Sign up now
Meal Prep Delivery with GoFiit
Our food is about achieving goals; our vision is about who you become in pursuit of those goals. Food plays such a huge role in living healthier, happier and longer. Our meals are designed around your goals and your nutritional needs, helping you to progress along your journey – whatever that journey may be.
Order now